Need a little help with your home plumbing? We have the professionals for you. From simple fixes like fixing faucets and unclogging drains, to major renovations such as installing new fixtures or building custom bathrooms. Our professional plumbers can handle any job around the house or commercial premises.
So if you need a plumber near me, how do you find one? No matter where you are, there is no escaping the inevitable. You will eventually need a plumber to fix something and you want to make sure you fid the right Plumber for your job. A lot of people are looking for ways to search and find the best plumber for their project.
In Australia, all states and territories require plumbers to be licensed to carry out plumbing work. There are different classes of licenses depending on the kind of work, which vary by state or territory. Unlicensed work is illegal and can create safety problems down the road! Licensed plumbers are highly qualified, have completed their apprenticeship and accreditation to obtain their license. 
Let our professionals help you with your plumbing needs. From small repairs to full bathroom renovations, we are here for all of your home's requirements.
What are services of Plumber near me?
First things first. You really need to know what you need the plumber near you to do. Here is a list of many of the most common tasks local plumbers do.
Emergency Plumbing
New drains
Drain repairs and blocked drains
Gasfitters
Toilet repairs
Guttering
Green plumbing
Home renovation plumbing
Plumbing maintenance
Grease trap installation and maintenance
Backflow plumbing services
Water plumbing
Hot Water system installation and hot water unit repairs
Mechanical services plumbing if you have a heating or cooling system (such as air conditioning) in your home or commercial property, you may need assistance with installing, maintaining and repairing pipes and fittings associated with that system.
Now you have an understanding of what the project you need completed may entail, it would be good to have a rough idea for what the labour and materials may cost.
How much do Plumbers cost by the hour?
We recently ran a survey and found most Plumbers are charging between $60 – $150 per hour. Prices vary greatly due to experience, complexity of the job, location and many other influencers.
It is recommended to always get a few quotes, unless you already have someone you know and trust that can do your work.
Plumbing materials
The most likely scenario for your project will be that the Plumber will supply the equipment required. However there are always times that this is not the case. You may wish to supply the bathroom fittings such as bath tub, taps etc. Another way that the cost of these items are covered are via a provisional sum amount in a contract. In this scenario, an allowance is made for fittings, however, if you want to choose something that is outside the budget allowance, you will need to pay extra. This is something to discuss with your Plumber.
How to find plumbers near you
When looking to hire a plumber, there are many aspects of consideration. For example, first consider availability and cost & location but also be sure you check for licenses as well as recommendations and examples of previous work that the potential plumber has done in your area or elsewhere.
So we have done lots of the hard work for you! We have many amazing plumbers listed here on TradieLink.com.au. We encourage our customers to leave reviews. This is by far the best way to reward the Plumbers that do the right thing.
If there is a problem with the job completed by your plumber, you will need to contact the Plumber and ask them to rectify. If this doesn't resolve the issue then you will need to follow up with the licensing body. There are processes put in place to protect consumers.
Here are the top things to check when looking for a Plumber near you.
Reviews
Previous
Work
Referrals
License
Local
Services offered
Get several quotes
Professional Memberships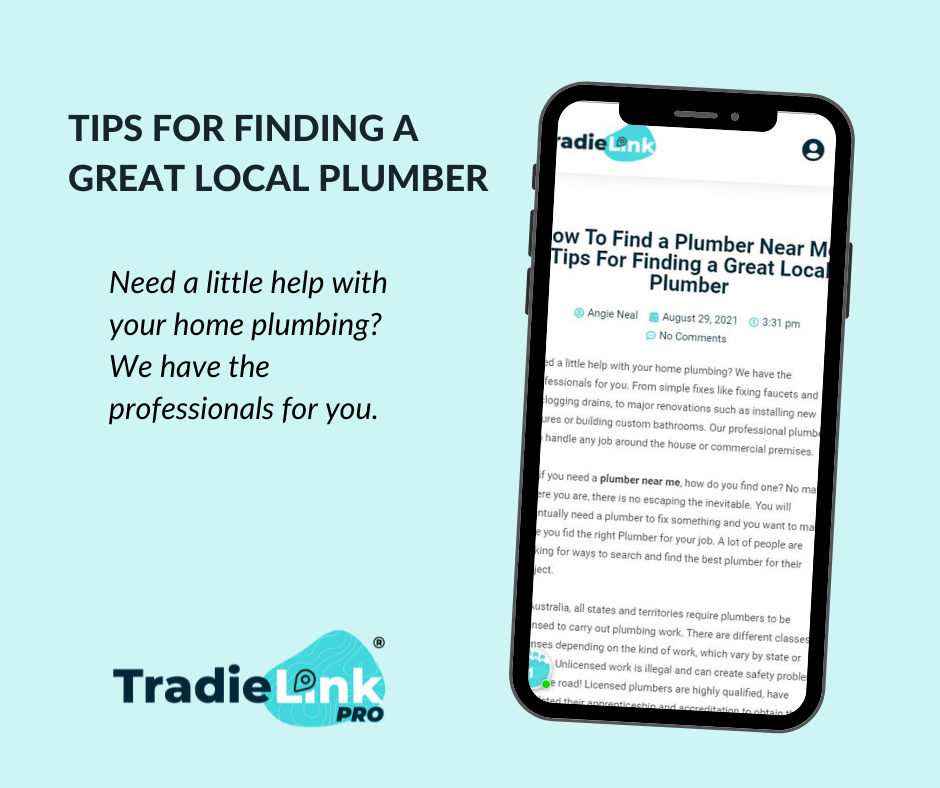 We'd love you feedback or comments on this article or if you found a great Plumber near you via TradieLink.com.au