What makes a great Tradie?
It is not easy to be a tradesperson. Not only must they have the skills and knowledge needed for their trade, but also an understanding of people in order to adequately serve them. Whether it's installing a new kitchen or fixing an old roof, there are many factors that come into play when choosing the best Tradie. From perception of the project and respectability all the way down to price, there really are so many areas to cover.
A good tradesperson is someone who can communicate to their customers in a way that makes them feel valued. They want someone with a great attitude. The Tradie should be likeable and easy-going, as well as skilled enough to do the job well and quickly. 
So what makes a good tradesman? We asked this question on Facebook and you responded!
Why it is so important to hire a quality Tradie
So unless you are a big fan of stress and throwing money away, you really want to find a quality Tradie. Hiring quality Tradies is vital to ensure your projects are done right the first time and at a reasonable cost.
You really want to protect your investment and feel secure, knowing everything has been taken care of by someone who knows what they're doing. 
For an undertaking as important and potentially stressful as a home renovation, choosing the wrong tradesmen can be costly. There are many reasons why getting reliable Tradies is so crucial to maintaining your sanity while you undertake this project. Timing and planning will make or break any successful plan; thus it's essential that your Tradie will arrive on time (or at least within reasonable working hours). They need to work quickly without sacrificing quality of workmanship. Clean up for the next phase right after finishing their task in order to maintain momentum with minimal disruption. These are all things which good trade people do naturally but if you are not careful, you may overlook when hiring them.
Here are the top tips to find the best Tradie: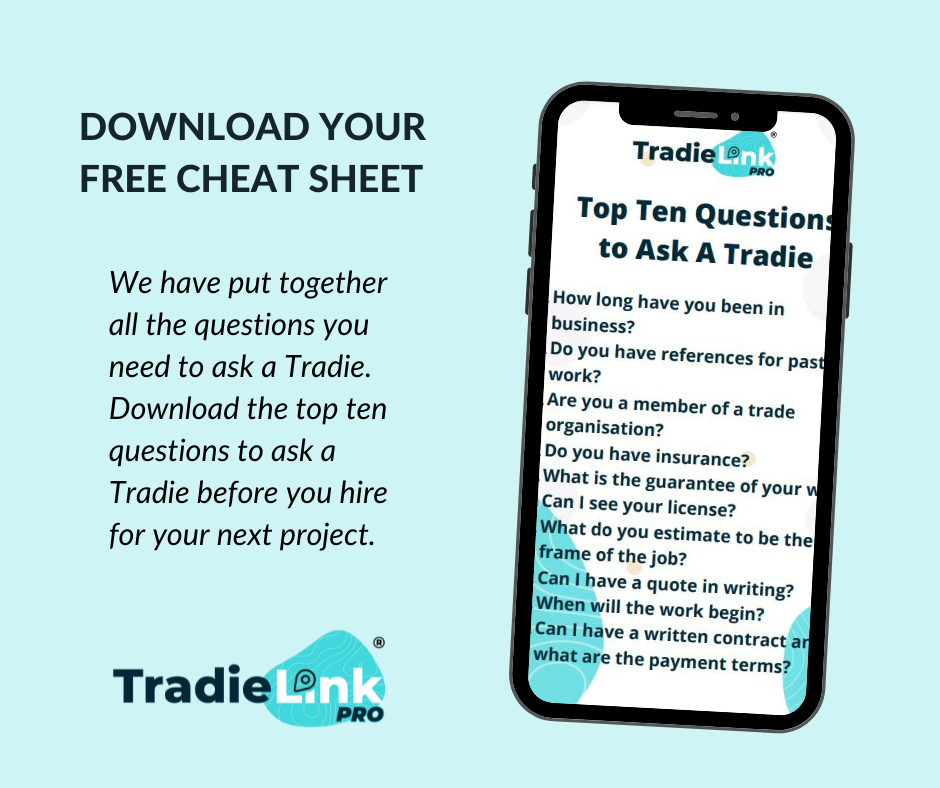 Download The Top Ten Questions to Ask A Tradie Cheat Sheet Now!
The more confident you are in the skills and reliability of your tradies, then the greater chance that it will be a successful project. However, if they make mistakes or arrive late to work onsite (or worse), this can really put projects at risk. Timing is key when undertaking any renovation – getting tradespeople who show up on time with their gear ready for action doesn't just save money but ensures success too!
The importance of choosing reliable trade people for your home renovations cannot be understated: timing and planning are critical components which need to go smoothly before everything else falls into place.
Frequently Asked Questions
How do I find a reputable Tradie?
Check reviews on Facebook, Google and also sites like TradieLink. Also remember when you use a good Tradie to return the favour and leave a great review.
How do I choose a Tradie?
When choosing a Tradie, it's important to do your research and ask for references. Then try speaking with referees yourself if possible. Also check previous work the Tradie has completed for workmanship.
How do I find a good Tradie?
Hiring a tradie is an important decision, so it's crucial to know the ins and outs before making your choice. Licences are one thing you should be checking for - if they don't have these papers then perhaps reconsider their offer? You also need to make sure that there isn't anything in place which could stop them from completing work such as bankruptcy or criminal charges against them!
How do I know if a Tradie is reliable?
The best way to find out if your tradesman is legitimate is by checking their Trade Association. A good indication of professionalism and qualifications, you can be sure that they will do a quality job for the price quoted on your estimate.